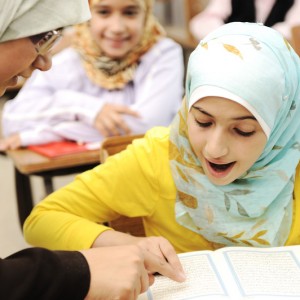 Kids love our NoonArabic™ color-coded workbooks, activities, games, and crafts. We focus on writing, pronunciations, and reading. Our hands-on activities reinforce their new skills. Students learn to be independent learners by reading and writing on their own. This develops their confidence as students. Kids will enjoy making their own flash cards and interacting with their classmates and inspiring each other. Our 120 minute classes are taught by fluent Arabic speakers. Our instructors support students in setting their own learning goals for each class. Small class sizes ensure one-to-one, individualized attention catering to the various learning styles we find with each child .
ARABIC :
Saturdays 10:00 A.M.- 2:00 P.M.
-other class times available by request-
Quran Program for Children – Memorization, pronunciation, Tajweed and Supplication in a small class environment:
Tuesdays 10:00 A.M. –  12:00 P.M.
Ms. Shyma is passionate about bringing Arabic culture and language to life.  She is a sought-after instructor of Arabic, and now brings her expertise to head our Arabic Language program.  Her experience with young learners has been instrumental in the development of the NoonArabic™ curriculum.
Ms. Shyma earned her advanced degree from Victoria University in teaching and a masters' degree in Journalism from RMIT University from Melbourne, Australia. She is keen on bringing out the beauty and the uniqueness of the Arabic language. She previously produced a radio show for Arab youth and has also worked as a correspondent for numerous local and international news organizations.
"I enjoy sharing the beauty of the Arabic language. My goal is to show the children particularly how easy it is to learn the Arabic language. The spark I see in their eyes upon learning something new inspires me every day."
"I can't believe I learned so much in a very short time." – Ines, age 9