Welcome to Lava Learning Inc., home of Aloha Mind Math
 Give Your Child A Head Start
"Inside your child lies an unrealized capacity for learning. At ALOHA, we strive to unleash this potential so that your child can get ahead – and stay ahead – in a competitive academic environment. Our innovative methods come from teaching millions of children around the world key skills in mathematics and problem solving."
Yen Y.
We are glad that we've found Aloha Mind Math for my son. He has been going there for almost 3 years now. We have tried other provider before but didn1 get good outcome. But soon after he got in Aloha he improves a lot in Math, I can see that he is very confident and most importantly that he enjoys it. 
Winnie L
We absolutely love Hali and her team. From day one, they've been welcoming, accommodating and very flexible. I loved the Aloha Mind Math concept of having.
Andy N.
My 1st grade daughter was expressing a dislike for math in school, and enrolling her in Aloha math certainly changed that. She loves going to Aloha class, and is becoming much more proficient at completing her home assignments. She does not fear math anymore and is improving rapidly. She loves her Aloha teachers!
Liz R.
After just a few months in the program we noticed definite improvement in our son's ability to complete increasingly complex math calculations mentally. The teachers, class format, and learning the abacus made it enjoyable for him and gave him tile confidence he needed to continue to succeed in mathematics. Thank you for offering these classes!
Kat Sellis
Hali is dedicated, brilliant, hard working and so thoughtful! Her system really works! Kids in her classes are brilliant!! I recommend her to all my relocating clients!
Alison B.
My daughter is 4.5 years old and is currently in Montessori preschool. Her teachers say that she's always doing practical life and sensory activities, but rarely ventures over to math. Since she starts kindergarten in the fall, I want to make sure she has a good math foundation since she hasn't been showing much interest. Now I am excited that she learned so much so quickly and I highly recommend this place to anyone who wants their child to be successful in math.
Vishvak Gurram
I would definitely recommend Aloha Mind Math. I have seen great improvement in my son. He loves going to Aloha. His teachers Ms. Hali and Ms. Neeta are amazing.
Tiffany U.
My sons are in 1st and 2nd grades and have learned so much from ALOHA math classes! Not only are they doing great with their work but I am seeing them apply their knowledge in real life situations, impressing anyone who's around. I am very thankful for the program and for the teachers who are fantastic. I highly recommend ALOHA!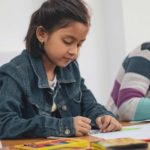 Neha J.
My daughter is in senior program and she love coming to Aloha and enjoy doing mind math. She is using the tricks in her homework too. We really like it.